Victoria Sponge Birthday Cake
£18 instead of £39.99 for a Victoria Sponge Birthday Cake from Baker Days - save 55%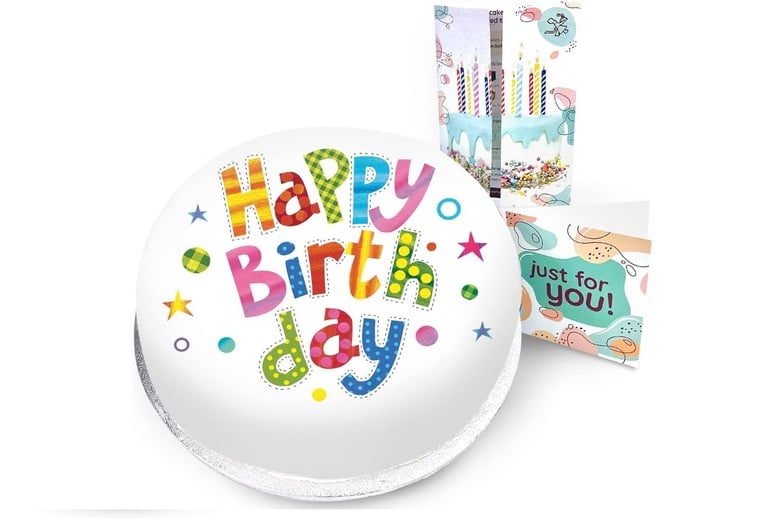 Victoria Sponge Birthday Cake
£18 instead of £39.99 for a Victoria Sponge Birthday Cake from Baker Days - save 55%
Product Features
Regal indulgence: This Victoria Sponge Birthday Cake is a royal treat, with layers of moist sponge, decadent cream, and fruity jam, fit for young as well as adults.
Timeless classic: With a legacy passed down through generations, this cake embodies tradition, making any celebration a truly special occasion.
Palate-pleasing layers: This cake will make you revel in the delightful combination of fluffy sponge, velvety cream, and sweet jam – a taste sensation that will leave you craving more.
Party perfect: Adorned with traditional vanilla cream, this cake is a visual delight, stealing the spotlight at any birthday gathering.
Full Details
This Victoria Sponge Birthday Cake is so delightful, it's the queen of cakes – regal in taste and reigning supreme in the land of sugary sovereignty!
We're offering you a Victoria Sponge Birthday Cake for just £18, saving you 55% off Bakerday's price.
Delightfully tasty
Introducing the delectable Victoria Sponge Birthday Cake, fit for royalty and sure to reign over your taste buds with its majestic flavours! This vanilla sponge cake is a perfect blend of soft, airy sponge layers sandwiched together with luscious apple and raspberry jam and creamy buttercream, creating a harmonious balance that's simply fit for a queen. With every bite, you'll experience the divine dance of sweet and fruity notes, making it a celebratory treat that deserves a crown. Join the cakeocracy and indulge in the regal pleasure of this Victoria Sponge Birthday Cake!
A harmonious union of sweet flavours
Nestled between layers of fluffy, moist sponge cake, you'll discover a luscious spread of rich, velvety whipped cream and sweet, fruity jam, a harmonious union that rivals even the grandest of palatial affairs.
With a top layer dusted in a gentle sprinkle of powdered sugar, this cake is dressed to impress, making it the perfect centrepiece for any birthday celebration.
This Victoria Sponge cake is a true emblem of tradition, a timeless classic that has been enchanting taste buds for generations.
This deal is brought to you by Bakerdays VAT number: GB330971802
This deal is brought to you by Bakerdays VAT number: GB330971802